Porsche Taycan High-Performance Luxury EV For Sale in Philadelphia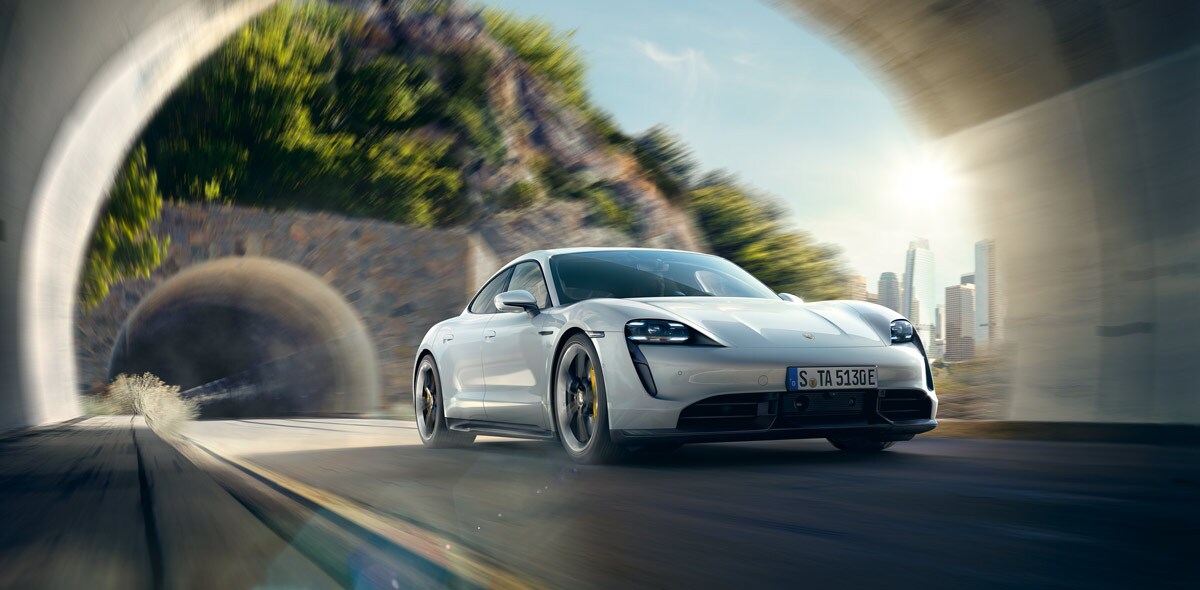 The New Porsche Taycan: Bold, Powerful, and Attractive
The New Porsche Taycan is the first electric car manufactured by Porsche. This new 5000-pound electric car delivers exceptional driving dynamics and performance. It comes with a powerful battery and advanced motors that achieve incredible acceleration and unbelievable speeds. The drivetrain is composed of a two-speed transmission and an 800-volt electrical system. This system shortens recharge times and increases the driving range.
The Porsche Taycan is for Philadelphia drivers that prioritize performance over interior space and comfort. Handling is precise, with steering accuracy that is hard to find. Buyers have three models to chose from, the Porsche Taycan 4S sedan, the Turbo S sedan, and the Turbo Sedan.
Taycan Technology
When it comes to technology, the Taycan delivers. It features a curved 16.8-inch digital instrumentation cluster fitted behind the steering and two touchscreens, a 10.9-inch touchscreen mounted at the center of the dashboard, and an 8.4-inch mounted in the center. This touchscreen features Apple CarPlay, Android Auto connectivity, navigation, and satellite radio. Wireless charging also comes as standard.
Interior, Comfort, and Cargo
The Taycan features a comfortable and spacious interior with a standard four-seat and an optional five-seat configuration. The Taycan also features 17 cubic feet in cargo volume divided between the trunk and the hood. Other features include heated steering, heated and ventilated front seats, full leather interior, 14-way power-adjustable front seats, and dual-zone climate control.
Performance and Driving Range
The 2020 Porsche Taycan is available with three powertrains for each trim, the Taycan 4S, Turbo, and Turbo S.
All models of the Taycan come standard with all-wheel-drive with one electric motor on each axle and a standard two-speed automatic transmission that delivers a smooth shift and a constant acceleration. The motors draw their power from a 79.2-kWh battery that is standard on Taycan 4S. The Turbo and Turbo S models are powered standard by a 93.4 kWh battery that is also available for the 4S.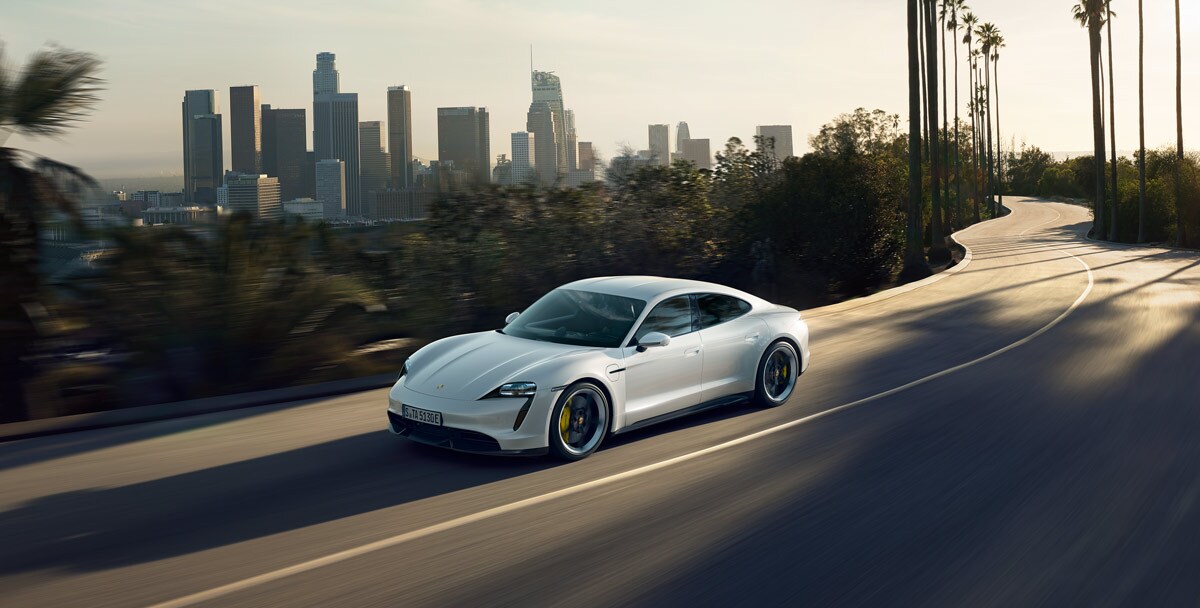 The Porsche Taycan 4S is driven by a less powerful compact rear motor powered by its 79.2 kWh battery to deliver 429 horsepower and 472 pound-feet of torque. This powertrain can be upgraded by installing a launch control over-boost to produce 522 horsepower. By upgrading the battery pack to 93.4 kWh, the power output jumps to 482 horsepower and 563 on over-boost and 479 pound-feet of torque. The 4S delivers a 0-60 mph acceleration of 3.8 seconds, one of the fastest in the market.
The Taycan Turbo and Taycan Turbo S are equipped with higher-capacity 93.4 kWh battery and powerful rear motor. The Taycan Turbo delivers a whopping 616 horsepower and 626 pound-feet of torque. The power output increases to 670 horsepower on over-boost. The Turbo S uses the launch boost to produce 750 horsepower and 774 pound-feet of torque.
The Turbo model accelerates from 0-60 mph in just 3.0 seconds, while the Turbo S model does this in 3.6 seconds. EPA rates the Turbo and the Turbo S at 201 miles and 191 miles of driving range.
Safety and Driver-Assistance Features
The Porsche Taycan is equipped standard with state-of-art driver assistance and technology features. These features include lane keep assist, auto emergency braking, adaptive cruise control, blind-spot monitoring, front and rear parking sensors, forward collision warning, and lane departure warning with automated emergency braking.
Available Trims
The new Porsche Taycan is available in 3 different models, the 4S sedan, the Turbo, and the Turbo. Buyers can get their best-suited trim depending on the power requirement, range, and comfort. Being the first of its kind, the Taycan does not disappoint. There is even the new Porsche Taycan Cross Turismo!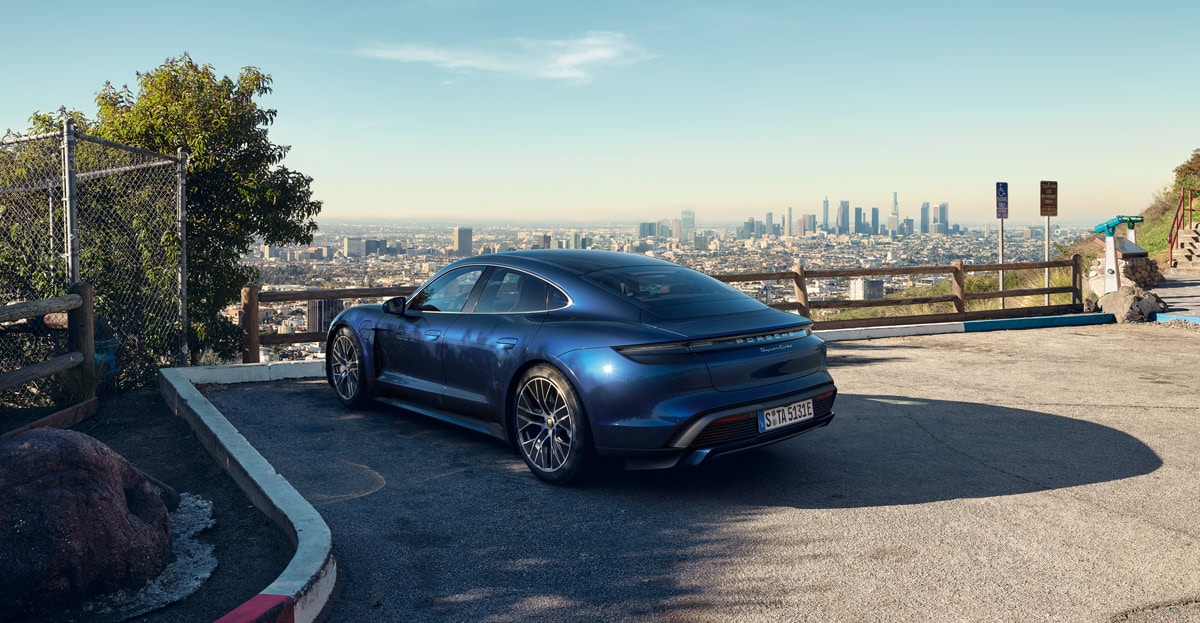 Visit Porsche of The Main Line today to learn more and test drive the new Porsche Taycan.