Porsche Taycan High-Performance Luxury EV For Sale in Philadelphia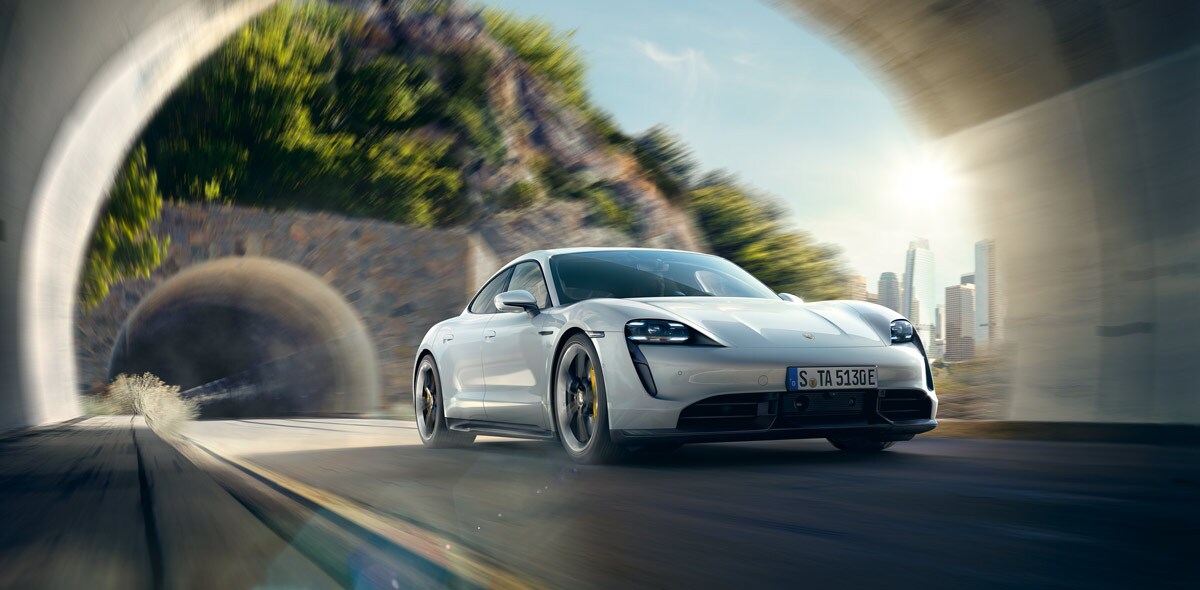 New 2023 Porsche Taycan at Porsche Main Line in Newtown Square
The Porsche Taycan at Porsche Main Line in Newtown Square is a luxury electric car with sports-car dynamics, making it one of the most fun electric vehicles around. For those who value how a car feels on the road, the Taycan is a great option. It has a range of appealing features and practical elements, so it's not all flash, and the Taycan fits well into the electrified supercar segment of the market. On this page, you can learn more about what makes the Taycan attractive and why you might want to consider it.
What's New?
The Taycan came out for the first time in 2020, so it is a fairly new model. 2021 offered a new introductory trim, body style, and some feature changes. 2022 added on Android Auto and remote parking assist. It also saw the release of another new trim. 2023 was a more incremental year. The infotainment system got an overhaul to its interface and the underlying software. The 2023 model also has a larger driving range before needing a recharge than the previous years.
Performance
The Taycan stands out among electric cars-- and all cars, for that matter-- by offering a huge array of drivetrain choices. There is a total of 8. They range from 321 horsepower to 616, and they are all capable of an overboost that can add on another 100 or more horsepower. The top few drivetrain choices are some of the most powerful engines on the road, electric or not, offering thrilling power and incredible acceleration. Handling is sleek and sporty, creating an undeniable feeling that the Taycan is a roadmaster around Philadelphia.
Design
The Taycan is a beautiful car. The sleek and curvy exterior conveys a classical European sports car with its deep cuts and low roof. The interior is extremely upscale and comfortable. It uses high-end materials to build a luxurious ambiance that unites the tech and paneling for a consistent theme. It's also spacious enough for passengers and cargo, which is not always the case with performance oriented-vehicles. The Taycan's performance is excellent, but the design is more than worthy of its inclusion on the upper end of the market.
Safety
Few sports cars undergo crash testing, which is true of the Taycan. It does have an appealing set of automated safety features. The standard set has forward collision warning and automatic emergency braking, lane keep assist, lane departure warning, traffic sign recognition, a rear camera, and more. It has some optional features, too, like blind spot monitoring and adaptive cruise control, but they are more convenience features than safety features. One of the more interesting ones is InnoDrive, a highway autonomous driving mode.
Tech
Tech on the Taycan is advanced. The infotainment system is 10.9 inches across and controls much of the car's functions. Smartphone connectivity is also included with satellite radio, wireless charging, and other extras.
Visit Porsche Main Line in Newtown Square Today!
If what you have read inspires you to learn more about the Taycan, think about taking one out for a test drive. The Taycann is one of the most engaging and performance-oriented electric cars that money can buy, so a test drive can help you decide if it feels right for you. You can ask our staff about the Taycan's features and how to configure one to fit well into your budget. That is especially true if you have never owned or driven an electric car. The Porsche Taycan at Porsche Main Line has much to offer buyers near Philadelphia.
Contact Us!
* Indicates a required field