Shop New Porsche 911 in Newtown Square, PA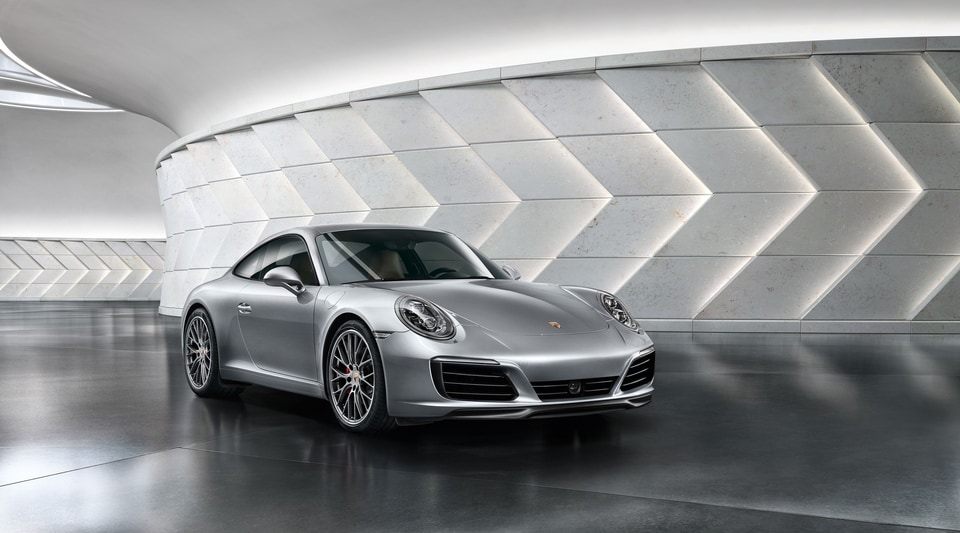 The New Porsche 911 
The new Porsche 911 is among the iconic sports crossovers at Porsche of The Main Line. It has better and smooth handling than ever. Also, the car features a stability-control technology, which enhances its performance.
Serving in Philadelphia, we offer this new Porsche model at the lowest cost. Please visit us at Porsche of The Main Line to have a close look at this new vehicle. Our team of car experts will guide you into discovering your suitable car. We are here to answer all your questions concerning our 2021 Porsche inventory.
We are the leading car dealers in Philadelphia. We deal in all-new sedans and crossovers, including the 2021 Porsche 911. Thus, you are sure to find your car choice at Porsche of The Main Line.
What is New for 2021 Porsche 911?
The all-new Targa models join the lineup
Comfort Access comes standard across the trim models
Premium Package comes revised with more features
The axle lift system at the front now includes GPS for ease of use
The exterior Python Green color also joins the lineup
Engine, Transmission, and Performance
The 2021 Porsche 911 Carerra uses a 3-liter 6-cylinder (twin-turbo) engine. The entry-level model generates 379 horsepower and a torque of 331 lb-ft. The S version makes 443 horses and 390 lb-ft. Torque.
All Carerra trim models feature an 8-speed automatic for quick-shifting. The S models come equipped with a 7-speed transmission (manual).
Also, the base and S trim models have a standard RWD (rear-wheel drive). However, these models come equipped with AWD for better performance. Both the base Carerra and Carerra S have tremendous prowess on the highway.
More intriguing, every 2021 Porsche 911 model has a commendable acceleration. Porsches' sports exhaust (optional) adds up to the 911's smooth handling experience. Best of all, the Porsche models are comfortable and better to drive.
Also, the Porsche 911's steering is direct and responsive. This scenario increases the stability and cornering grip on coupes and convertibles.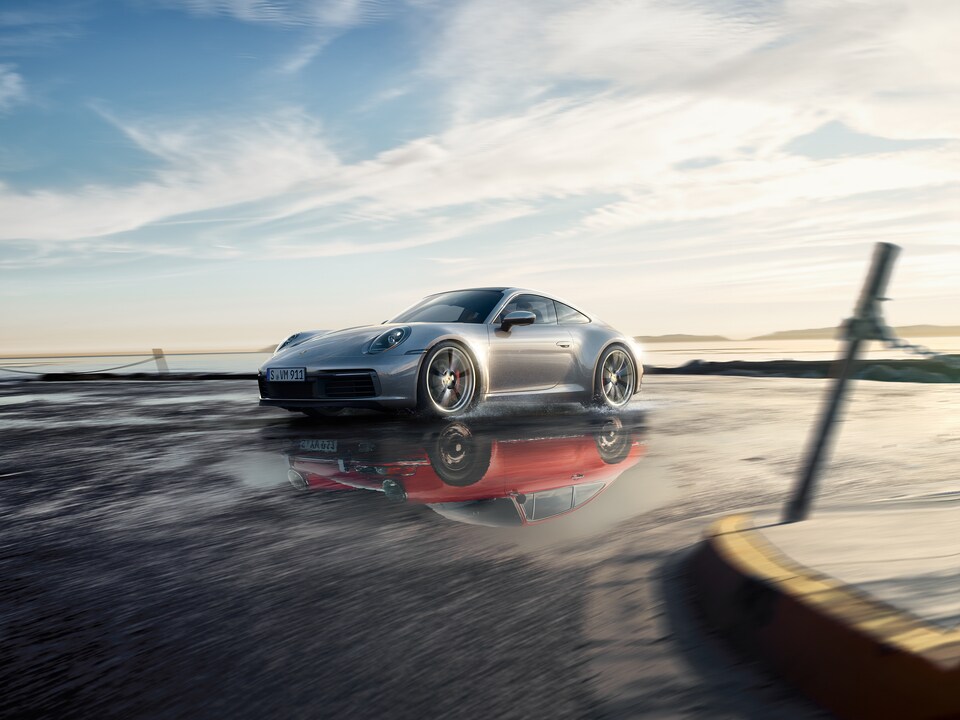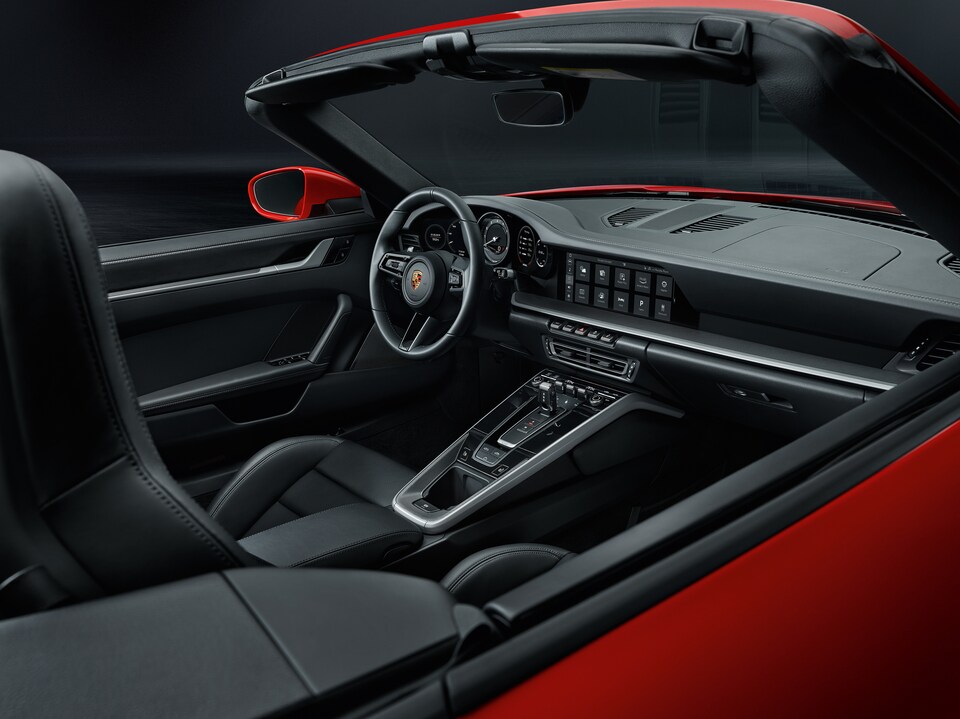 Interior Luxury Tech Features
The 911 model's interior looks sophisticated. It includes a mixture of control buttons, touchscreen controls, and knobs. The instrument cluster comprises two digital touchscreens flanking the tachometer. Also, the main interface (multimedia) includes a 10.9-inch touchscreen.
Both the 911's passengers and driver seats are supportive and comfortable. Plus, the steering features a wide range of adjustment.
Infotainment and Connectivity
Every 911 trim model includes a 10.9-inch touchscreen. This screen comes integrated into the dashboard up front.
The center display features push-button control (on the console). Other means of operation include buttons (buttons on the steering) and voice commands.
The infotainment system includes a Wi-Fi hotspot and Apple CarPlay (wireless). Besides, Porsche provides two high-end sound systems. They have a 12-speaker Bose and a 13-speaker Burmester.
2021 Porsche 911 Carerra Trim Levels
2021 Porsche 911 Carerra Coupe
379-hp powertrain
Rear-Wheel drive
19/20-inch wheels
Available seven-speed manual transmission
Coupe or Cabrio
2021 Porsche 911 Carerra 4 Coupe
379-hp engine
Fixed roof
AWD (all-wheel drive)
19/20-inch wheels
Seven-speed manual transmission
2021 Porsche 911 Targa 4S
443-hp engine
Larger brakes
AWD (all-wheel drive)
7-speed manual
Magnesium and cloth roof (power-operated)
2021 Porsche 911 Turbo S Cabriolet
640-horsepower engine
Massive brakes
All-Wheel drive
An eight-speed dual-clutch transmission (standard)
2021 Porsche 911 Carrera Safety Technology
Wet Driving Mode
The new 911 Carrera comes with a Wet Driving Mode (standard). This system detects rainfall and calibrates the control for stability.
LED Matrix Headlights with PDLS Plus
This optional system uses 84 individual LED lights in the headlight cluster. The system illuminates the road ahead, calibrating intensity on the vehicle's path.
Night Vision Assist
This feature is also optional. It uses a thermal-imaging camera to detect a person 300 meters away. Then, it alerts the driver to take action.
Safety and Driver-Assist Features
The 2021 Porsche comes with a myriad of driver-assist features. Essential safety amenities include:
Available Cruise Control
Available Lane-Departure Alert
Forward-Collision Warning with automatic emergency brakes
Visit Porsche of The Main Line Today!
We take pride in having the 2021 Porsche 911 lineup. Please come to Porsche of The Main Line and test drive one today. You can also visit our website for more information.
Hours
Monday

9:00AM-6:00PM

Tuesday

9:00AM-6:00PM

Wednesday

9:00AM-6:00PM

Thursday

9:00AM-6:00PM

Friday

9:00AM-6:00PM

Saturday

9:00AM-5:00PM

Sunday

Closed