Shop New Porsche Cayenne in Newtown Square PA

Shop the Latest Porsche Cayenne Available for Philadelphia Drivers
With a reputation for high caliber performance and sporty looks, the Porsche Cayenne stands as one of your best bets in a reliable and quality SUV for cruising in Philadelphia. No doubt, the Cayenne brand is not short of outstanding performance and quality with opulent Porsche SUVs models, including the Cayenne S, Turbo, GTS, and even the latest Cayenne Hybrid. Above all, our clients at Porsche of The Main Line can't fail but notice how prestigious the Porsche Cayenne is when it comes to an SUV sports car for everyday driving.
What's New?
Porsche continues the same spirit of great muscular engines and luxury amenities, with the latest Cayenne bringing out top performance. For this latest addition, Porsche first revives the Cayenne GTS model with the SUV now available at Porsche of The Main Line with a 460 hp twin-turbocharged V8 engine for that thrilling handling. The trim option also comes with more desirable features, including the likes of a lowered suspension alongside other performance-oriented hardware.
The Cayenne also improves the electric performance with a boost in the recently developed E-Hybrid trim option capacity. Here, Porsche now set you up with a Cayenne E-Hybrid running a 17.9 kWh battery, an upgrade from the previous 14.1 kWh package. On top of this, Porsche reveals improving the battery's life pack with the charge state expected to last Philadelphia drivers longer on the roads.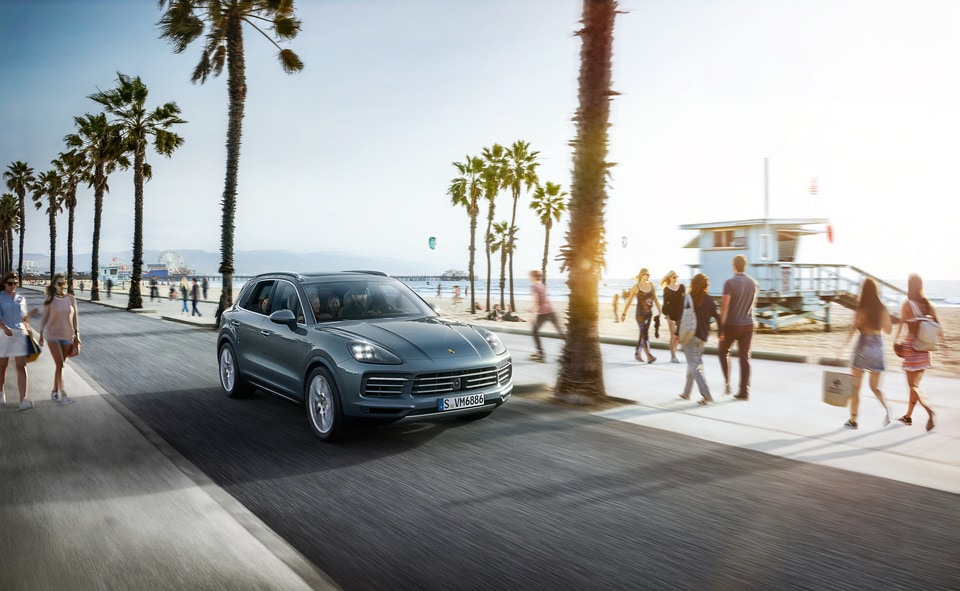 Performance
The Porsche Cayenne performance very much depends on what matches your needs, including the V6, V8, and hybrid engines available for the SUV.
First, the base Cayenne has you running on a 335 hp V6 engine, which also speeds potent at 0-60 mph in 5.6 seconds. Next, Porsche provides the S Model, a trim option with a 434 hp 2.9liter twin-turbocharged V6 engine that sprints from 0-60 mph in less than five seconds.
The newly introduced Cayenne GTS will top this up with a 460 hp twin-turbocharged four-liter V8 engine that also packs advanced performance options that are carried over from the past. For the top model Cayenne Turbo, Porsche has our inventory at Porsche of The Main Line with an SUV that boasts a 541 hp twin-turbo V8 engine that caters to thrilling and breathtaking driving.
Not forgetting, the Cayenne E-Hybrid plugin model now pairs a 17.9 kWh battery pack, an electric motor, and a turbocharged three-liter V6 gas engine. The combination sees the Cayenne hybrid standard now boast of 455 hp alongside 516 lb-ft of torque to promise that zestier driving experience.
As Porsche further reveals, each of the available engine powerplants with the Cayenne will also run on an eight-speed auto-transmission plus an all-wheel drivetrain.
Interior Luxury and Tech
Porsche is synonymous with luxury, and for the five-seater Cayenne, the case is not different in interior and exterior designs. Inside, the five-seater arrangement runs as a standard on the SUV model with a two-row design matching the model. However, the Cayenne coupe design comes different with only two-rear seats available, although a rear middle seat is also an option with the purchase.
The arrangement also comes with plenty of generous space, luxury, and state-of-the-art amenities to make the interior comfortable for all driving in and around town. Depending on your option, each Porsche Cayenne should have standard features such as:
Leather upholstery
Eight-way power-adjustable front seats
LATCH seat connectors
Power liftgate
A 12.3-inch infotainment touchscreen
On-board navigation system
Bluetooth connectivity
Satellite Radio
A ten-speaker stereo system
Four USB ports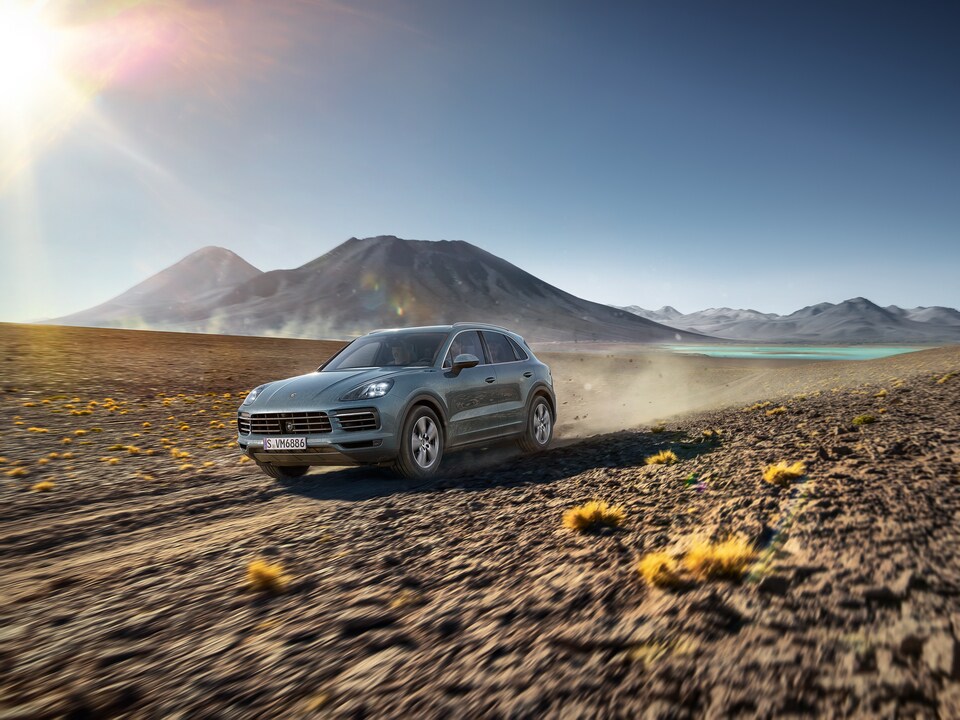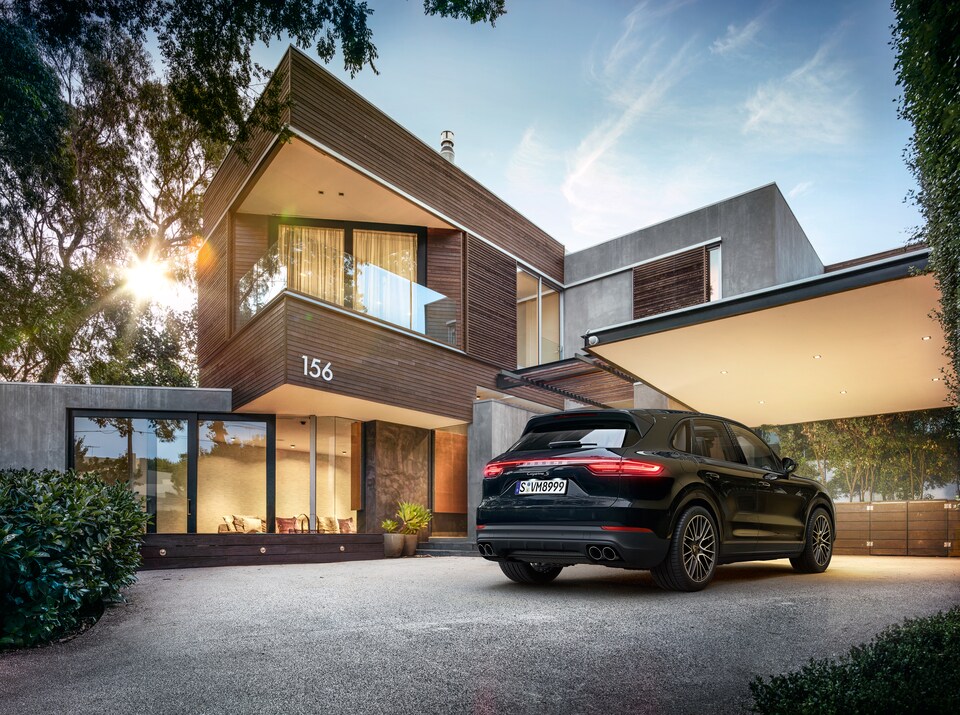 Safety
The Porsche Cayenne lists reliable SUV models, thanks to the safety standards and driver-assistance features made available. Indeed, the Cayenne is now available with options, including:
Rearview camera
Parking sensors
Lane keeping assist
Signature Porshe InnoDrive system
Lane change assist
A surround-view parking camera system
Traffic sign recognition
Forward collision warning
Automatic emergency braking
Adaptive headlights
Blind-spot monitoring
Head-up display
Night-vision camera
Trim Level Breakdown
The choice to pick the Porsche Cayenne is not final as the SUV lineup available at Porsche of The Main Line still gives you the option of five trim levels.
Cayenne
The base Cayenne spots standard highlights such as leather upholstery, parking sensors, alloy wheels, dual-zone automatic climate control, and rain-sensing windshield wipers.
Cayenne S
Aside from the 434 hp twin-turbocharged V6 engine, this Cayenne SUV trim also packs a panoramic sunroof, Porsche's Communication Management, 10-speaker Hi-Fi sound system, two USB ports, and dual-zone automatic climate control.
Cayenne GTS
The Cayenne GTS scoop reveals that drivers should expect a 453 hp twin-turbo V8 engine with a standard eight-speed automatic transmission plus an all-wheel drivetrain. Philadelphia drivers can also expect the GTS to couple them up with standard features such as LED headlights, rear badges, Alcantara synthetic suede covering, sport-exhaust system, and 21-inch Spyder design wheels.
Cayenne Turbo
The 541 hp Cayenne Turbo trademarks the four-liter twin-turbo V8 engine plus an array of features such as LED headlights, panoramic roof, 4D Chassis Control, heated seats, two-tone leather upholstery, and 18-way adaptive seats.
Cayenne Hybrid
The Cayenne E-Hybrid runs a combination of electric plus gas engine systems with additional advanced features, including 21-inch AeroDesign wheels, automatic rear hatch, leather trims, and eight-way power-adjustable front seats.
Experience the Porsche Cayenne at Porsche of The Main Line
Browse and experience the Porsche Cayenne collection made available by our experts at Porsche of The Main Line. Regardless of your Cayenne needs, you will receive a guide and test-drive with the matching model to suit your driving needs in and around Philadelphia.
Hours
Monday

9:00AM-6:00PM

Tuesday

9:00AM-6:00PM

Wednesday

9:00AM-6:00PM

Thursday

9:00AM-6:00PM

Friday

9:00AM-6:00PM

Saturday

9:00AM-5:00PM

Sunday

Closed